surrealism and art/ シュルレアリスムと美術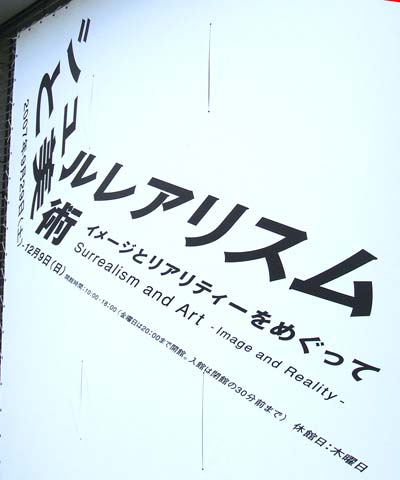 12月9日(日曜)、展示会が終わる日に、
横浜美術館
に
"シュルレアリスムと美術"
を見に行きました。ジョルジオ・デ・キリコ、アンドレ・マッソン、マックス・エルンスト、ルネ・マグリット、フランシス・ベーコン、サルバドール・ダリ、マルセル・デュシャン、クリスチャン・ボルタンスキー、ヨーゼフ・ボイスなどなど豪華な感じでした。
"シュルレアリスムと美術"の展示会の企画本の表紙が、3個ののQRコードでした。ぜひ、お試しください。
I went to
Yokohama Museum of Art
to see the exhibition
"shulrearim and art"
last Sunday. It was very interesting works that made by Giorgio de Chirico, Max Ernst, Marcel Duchamp, Rene Magritte, Salvador Dali, Francis Bacon, Christian Boltanski, Joseph Beuys and so on.
The cover of the exhibition book of
"shulrearim and art"
shows 3 piece of QR codes. Please see what they say.

--------------------------------------------------
濱口 直輝 (Naoki HAMAGUCHI)
http://www.naokihamaguchi.com/
http://blog.naokihamaguchi.com/
http://copyleft.naokihamaguchi.com/
info@naokihamaguchi.com
Naoki HAMAGUCHI x TERAO Koji
http://noscripted.blog114.fc2.com
YouTube:
http://www.youtube.com/nhamaguchi
MySpce:
http://www.myspace.com/naokihamaguchi
flickr:
http://www.flickr.com/photos/naokihamaguchi/