え〜と、干支の話/ Sexagenary cycle
もうすぐ2007年も終わろうとしています。2007年は亥年、そして来年2008年は子年です。毎年、何年かは意識するのですが
干支
の意味は知りませんでした。
干支
の意味、知ってますか?
It will be the end of 2007. 2007 is 亥 (Pig/Boar (豬)) year and next year, 2008 is a year of 子 (Rat (爻)) with using the idea of
干支 (Sexagenary cycle)
. Every year I think which this years is. I really do not know the meaning of
干支 (Sexagenary cycle)
.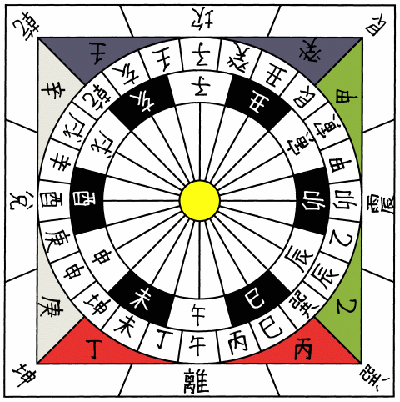 China 24 cardinal directions
from:
http://en.wikipedia.org/wiki/Image:China_24_cardinal_directions.png
干支;
干支(かんし、えと)は、十干と十二支を組み合わせたものである。十干十二支(じっかんじゅうにし)、天干地支(てんかんちし)の略。10と12の最小公倍数は60なので、干支は60期で一周することになる。そのため六十干支(ろくじっかんし)ともいう。
中国やアジアの漢字文化圏において、年・月・日・時や方位、角度、ことがらの順序をあらわすのにも用いられ、陰陽五行説とも結びついてさまざまな占いにも応用された。古くは十日十二辰、十母十二子とも呼称した。
起源は商(殷)代の中国にさかのぼる。日・月・年のそれぞれに充てられ、60日(ほぼ2か月)、60か月(ほぼ太陰太陽暦5年)、60年などをあらわす。干は幹・肝と、支は枝・肢と同源であるという。ベトナム、北朝鮮、韓国、日本などに伝わった。
*
十干(じっかん)は、甲・乙・丙・丁・戊・己・庚・辛・壬・癸の10の要素の順列。
*
十二支(じゅうにし)は、子・丑・寅・卯・辰・巳・午・未・申・酉・戌・亥
http://ja.wikipedia.org/wiki/
より
干支 (Sexagenary cycle);
The Chinese sexagenary cycle (Chinese: 干支; pinyin: gānzhī) is a cyclic numeral system of 60 combinations of the two basic cycles, the ten Heavenly Stems (天干; tiangan) and the twelve Earthly Branches (地支; dizhi).
These have been traditionally used as a means of numbering days and years, not only in China but also in other East Asian nations like Japan, Korea, and Vietnam. It is also an important part of Chinese astrology.
from
http://en.wikipedia.org/wiki/Sexagenary_cycle
Chinese astrology;
Chinese astrology is the divination of the future from the Chinese calendar, which is based on astronomy, and ancient Chinese philosophy. In particular, it is based on the sexagenary cycle of 60 years that has been documented since the time of the Shang Dynasty at the latest.
This basic cycle has been constructed from two cycles: the 10 heavenly stems (the five elements in their yin and yang forms) and the 12 earthly branches, or the 12-year cycle of animals referred to as the Chinese zodiac. The Chinese animal zodiac also operates on a cycle of months or 'moons' and of hours of the day.
The Chinese zodiac refers to a pure calendrical cycle; there are no equivalent constellations like those of the occidental zodiac. In imperial times there were astrologers who watched the sky for heavenly omens that would predict the future of the state, but this was a quite different practice of divination from the popular present-day methods.
from
http://en.wikipedia.org/wiki/Chinese_astrology
the 12-year cycle of animals are,
1. 子 (Rat (爻))
2. 丑 (Ox/Cow/Bull (鰛))
3. 寅 (Tiger (虎))
4. 卯 (Rabbit/Hare (兔))
5. 辰 (Dragon (龍))
6. 巳 (Snake (蛇))
7. 午 (Horse (馬))
8. 未 (Sheep/Goat (羊))
9. 申 (Monkey (猴))
10. 酉 (Chicken/Rooster)
11. 戌 (Dog (狗))
12. 亥 (Pig/Boar (豬))
-------------------------------------------------
濱口 直輝 (Naoki HAMAGUCHI)
http://www.naokihamaguchi.com/
http://blog.naokihamaguchi.com/
http://copyleft.naokihamaguchi.com/
info@naokihamaguchi.com
Naoki HAMAGUCHI x TERAO Koji
http://noscripted.blog114.fc2.com
YouTube:
http://www.youtube.com/nhamaguchi
MySpce:
http://www.myspace.com/naokihamaguchi